Welcome to Renova
Free Consultation Today! (832) 831-7004
more services
Experience The Renova Laser Difference
Renova Laser Hair Removal & MedSpa is the leader in providing laser hair removal as well as other non-invasive aesthetic treatments; serving Houston, Katy, Sugar Land, The Woodlands, Webster and surroundings. We pride ourselves on being a patient-centered results oriented clinic. When it comes to your aesthetic needs, we understand that you may have many choices; we will do our very best to earn your business and are grateful to have you as one of our satisfied clients. We will work with you to provide you with the most effective treatment plan, superior care and affordable pricing. Schedule your initial complimentary consultation by calling (832) 831-7004 or by email: contact@renovalaser.com.
Promotional Offers
Our FULL BODY Laser Hair Removal Package
Price: $1,500
Our full body laser hair removal package features six treatment sessions of the entire body, head to toes. Treatments are scheduled every six to eight weeks to ensure the best results. This is our most popular package and will give you the smooth skin you have always dreamed of! More Promotional Offers
Learn More
view all
Our Locations
Serving the Greater Houston area from two convenient locations
Address: 3100 Timmons Ln #445, Houston, TX 77027
Phone: (832)-831-7004

About Laser Removal
Need to know facts about laser hair removal procedure
Number of Treatments Needed to Achieve Good Results
Although several factors including an individual's genetics, hair color, hormone levels, and skin related factors determine the number of treatments needed to achieve a best laser hair removal results, usually 6-8 sessions are needed to get rid of unwanted hair. To ensure the highest quality of care, all of the packages provided by Renova Laser Hair Removal & MedSpa include 6 full treatment sessions and Renova Laser's Loyalty Program. Schedule a free consultation session today to learn more.
Treatment Areas
At Renova Laser Hair Removal & MedSpa, we offer several state-of-the-art, FDA approved laser hair removal platforms. This allows for safe treatments of all skin types while presenting high quality laser hair removal results. Laser hair removal can be performed in all body parts with unwanted hair. Although due to our excellent pricing and well-reputed client-care, most of our clients choose to treat the entire body (full body laser hair removal), followings are some of the most treated areas: face, underarms, abs, chest, back, bikini area (line, Brazilian, Brazilian Extended) and full legs.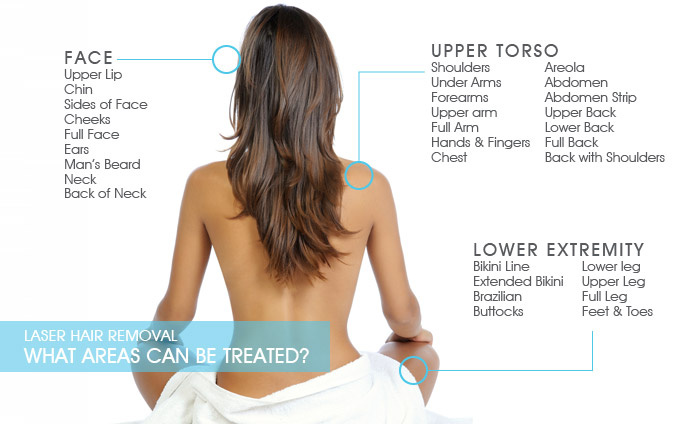 Skin Types
At Renova Laser Hair Removal & MedSpa, we can safely treat all skin color and types. Our laser equipment are most advanced and versatile in the industry.

FAQ
Read the most frequently asked questions by people like yourself who plan to have laser hair removal done
Is laser hair removal safe?
Yes, laser hair removal is absolutely safe and effective. It is an FDA approved procedure. At Renova, the equipment we use is an FDA approved. It's manufactured by the industry leader Candela Corporation.
What are the benefits of laser hair removal over other methods of hair removal?
Unlike shaving, waxing or tweezing, laser hair removal provides a long-term solution and permanent hair removal. Laser hair removal is fast and effective. Where electrolysis treats a single hair at a time, laser hair removal can cover large areas rapidly. Laser hair removal is cost effective and reduces the need for constant shaving.
What does laser hair removal feel like?
Laser hair removal is a very tolerable procedure. The procedure is often likened to a rubber band snap. If you are super sensitive, you may want to use a topical anesthetic or numbing gel.
How long does treatment usually take?
Depending on the area to be treated, laser hair removal can take only a few minutes or up to two hour for a full body laser hair removal treatment. The most commonly treated areas, bikini Brazilian, upper lip, chin, underarms, full legs and full back.
Can I return to work and normal activities immediately?
Yes, you can return to work and normal activities immediately. After laser hair removal, the treated site may feel like mild sunburn for 24 hours or more. Slight redness and swelling surrounding the hair follicles is normal and is actually an indicator of a good clinical response. Although irritating preparations such as glycolic acid and retinoids should be avoided, make-up can be applied to the treated area shortly after treatment.
How does laser hair removal work?
The laser light/beam is absorbed by the melanin pigment in the hair follicle and converted to heat. As a result the heat injures the hair follicle preventing its ability to produce hair.
Contact us for your obligation-free consultation today (832)-831-7004
Get Your Laser Hair Removal Done at Our Trusted MedSpa in Houston, Texas